Asteroid
Ajyal Competition - Ajyal Film Festival 2021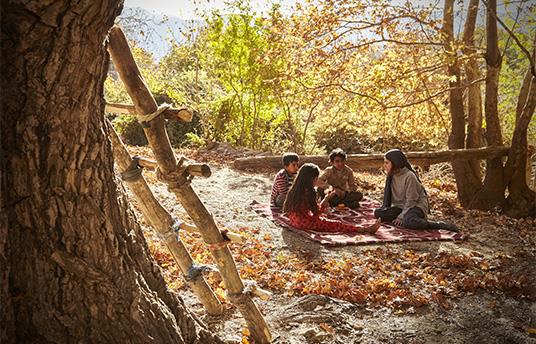 Description
Ebrahim is only twelve years of age but bears much of the responsibility for his household of five younger siblings with his destitute mother. His father and older brother left the family two years ago to find work, but neither has returned. Living in a remote desert, the close-knit family mostly gets by on odd jobs and seasonal work when tourists arrive. Ever the industrious boy, Ebrahim finds work wherever and whenever he can as he dutifully helps his family in their dream to build a house in the local village. Even though he carries an incredible weight on his young adolescent shoulders, Ebrahim never looks to complain or rebel. Indeed, he seems to genuinely revel in the responsibility of primary breadwinner that has been thrust upon him at such a tender age. Wise beyond his years, he comforts his mother and seems to be the glue of the family's bond as they endure their hardships with good humour and love. A portrait of filial responsibility and steadfast loyalty, 'Asteroid' is an earnest family drama with genuine heartfelt moments between a talented young cast.
Director
Mehdi Hoseinivand Aalipour
Born in Tehran, Mehdi Hoseinivand Aalipour is a prolific film editor best known for his cooperation with Dariush Mehrjui, Masoud Jafari Jozani and Ebrahim Hatamikia. A graduate of IRIB University, Hoseinivand has edited 35 feature films, 30 TV series, 27 TV movies and a number of documentary and short films all through his career. He has also directed four short films, one TV series and one TV movie. 'Asteroid', his debut directorial venture, won the Best Film Award in the Eastern Vista section at the 38th Fajr International Film Festival.
Credits
Screenwriter

Mehdi Hoseinivand Aalipour

Producer

Mehdi Hoseinivand Aalipour

Cinematographer

Davood Rahmani

Editor

Mojtaba Esfehani

Music

Arya Aziminejad

Cast

Hadi Kazemi, Ghazal Shojaie, Ebrahim Zarozehi