Brother's Keeper
Ajyal Competition - Ajyal Film Festival 2021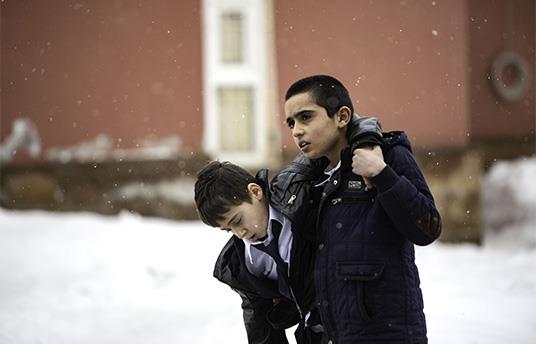 Description
Yusuf and his best friend Memo are pupils at a boarding school for Kurdish boys, secluded in the mountains of Eastern Anatolia. When Memo falls mysteriously ill, Yusuf is forced to struggle through the bureaucratic obstacles put up by the school's repressive authorities to try to help his friend. But by the time the adults in charge finally understand the seriousness of Memo's condition and try to get him to the hospital, the school has been buried under a sudden, heavy snowfall. With no way out, teachers and pupils engage in a blame game where grudges and hidden secrets emerge—as time ticks mercilessly by and threatens to run out.
Through Yusuf's story, the film sets out to examine corrupt systems and the cycles of abuse often found within them. The children are the heroes of the narrative, symbols of purity, innocence and, most importantly, hope. By contrast, it is the metaphor of a boarding school run with an iron fist and unyielding bureaucracy that is used to deftly illustrate the callous nature of corrupt institutions that all too often shirk the responsibilities entrusted to them. Beautifully shot and with a compellingly layered plot, 'Brother's Keeper' is a harrowing coming-of-age story with profound undertones.
Director
Ferit Karahan
Ferit Karahan was born in Muş, Turkey. His short films 'Before the Flood' and 'Yusiv's Dream' have been screened at numerous festivals, winning several awards and honourable mentions. His feature debut 'The Fall from Heaven' premiered at the Antalya Film Festival, where it won Best Film and was later screened at more than 15 festivals and won 10 awards. He also created "Eski Köye Yeni Adet" for FOX as a TV movie, but the film was later released in cinemas around Turkey.
Credits
Screenwriter

Ferit Karahan, Gülistan Acet

Producer

Kanat Doğramacı

Cinematographer

Türksoy Gölebeyi

Editor

Sercan Sezgin, Hayedeh Safiyari, Ferit Karahan

Cast

Samet Yıldız, Ekin Koç, Mahir İpek, Nurullah Alaca, Cansu Fırıncı, Melih Selçuk