Divine Intervention
DFI Cinema - Doha Film Institute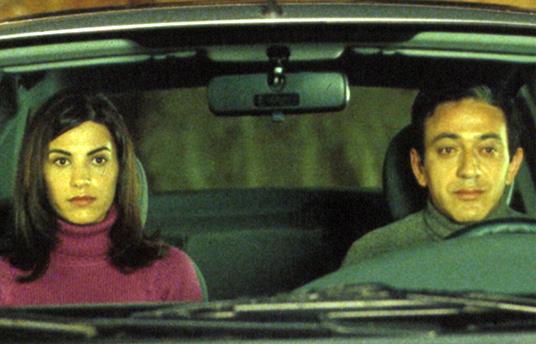 Description
In Nazareth, under the guise of banal normalcy, the town embraces folly. Under pressure due to his failing business, a man takes matters into his own hands and tries to break a chain reaction of petty feuds. He breaks down himself. The man is Elia Suleiman's father. A love story takes place between a Palestinian man living in Jerusalem and a Palestinian woman from Ramallah. The maN—E.S.—shifts between his ailing father and his love life, trying to keep both alive.

Because of the political situation, the woman's freedom of movement ends at the Israeli army checkpoint between the two cities. As they are barred from crossing the border, the lovers' intimate encounters take place on a deserted lot right beside the checkpoint. They are unable to exempt reality from occupation, unable to preserve their intimacy in the face of a siege. A complicity of solemn desire begins to generate violent repercussions, and, against the odds, their angry hearts counterattack with spasms of spectacular fantasy.

This screening will be followed by a Q&A with the filmmaker.
Director
Elia Suleiman
Born in Nazareth in 1960, Palestinian filmmaker and Doha Film Institute's Artistic Advisor, Elia Suleiman, directed his first two short films while living in New York between 1981-1993. In 1994, Suleiman returned to Jerusalem to create a Film and Media Department at Birzeit University. His feature debut, 'Chronicle of a Disappearance', won the Best First Film award at the 1996 Venice Film Festival. In 2002, 'Divine Intervention 'won the Jury Prize at the Cannes Film Festival and the Best Foreign Film prize at the European Awards in Rome. His feature, 'The Time That Remains', screened in competition at the 2009 Cannes Film Festival. His latest feature, 'It Must Be Heaven', screened in competition at the 2019 Cannes Film Festival and was the Winner of the Jury Special Mention and FIPRESCI Critics 'Award. Suleiman was awarded the European Achievement in World Cinema Award at the 35th European film awards ceremony in Reykjavik in December 2022.
Credits
Screenwriter

Elia Suleiman

Producer

Humbert Balsan

Cinematographer

Marc-André Batigne

Editor

Véronique Lange

Cast

Elia Suleiman, Manal Khader, Nayef Fahoum Daher