The Roof
DFI Cinema - Doha Film Institute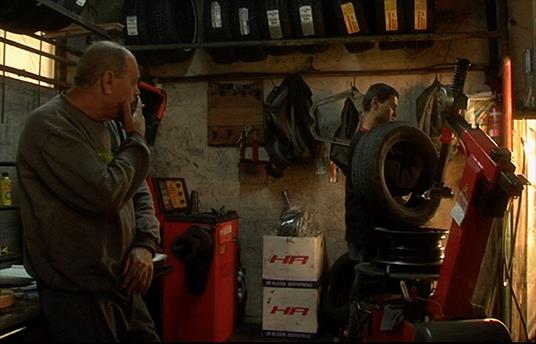 Description
This deceptively quiet film presents a portrait of Aljafari's family in Ramleh and Jaffa that hovers between documentary and cinematic memoir, guided by a nimble camera moving calmly but ceaselessly around the rooms of homes inhabited, damaged and ruined. The title refers to the roof missing from the house where Aljafari's family resettled in 1948, a home unfinished, an incomplete construction project. The use of stillness and off-screen space creates a sense of suspension, of time spent waiting, of aftermath, of lives lived elsewhere.

Aljafari's striking use of his "cast," his family, reveals the influence of Bresson's use of nonprofessional actors as models whose performances emanate from their presence, not from acting. Curator Jean Pierre Rehm has called the film "as much a stylistic as a political manifesto", one that "reveals not so much the meaning of an absent roof, but the architecture of identity, place, and present pasts."

This screening will be followed by a Q&A with the filmmaker.
Director
Kamal Aljafari
Kamal Aljafari is a Palestinian filmmaker. He attended the Academy of Media Arts in Cologne and now lives in Berlin, Germany. He has taught filmmaking at The New School in New York and the German Film and Television Academy Berlin (DFFB). He was also a Film Study Center Radcliffe Fellow at Harvard University. In 2021, Olhar de Cinema – Curitiba International Film Festival in Brazil devoted its Focus Section to his work. Aljafari's 'Paradiso, XXXI, 108' premiered at Corti d'Autore, at the Locarno Film Festival 2022.
Credits
Producer

Kamal Aljafari

Cinematographer

Diego Martinez Vignatti

Editor

Kamal Aljafari

Music

Asmahan, Megri, Souad Massi, The El Avram Group