My Love Awaits Me by the Sea
DFI Cinema - Doha Film Institute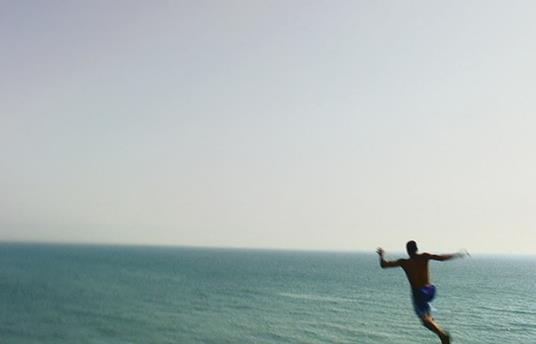 Description
On discovering the drawings and poems of the late Hasan Hourani, who had drowned a few months earlier, director Mais Darwazah felt the ebullience of having found a kindred spirit. A singular painter and poet, Hourani created a fantastical world in which he was a perpetual child, stuck in boyhood, his freedom not limited by the occupation under which he grew up in Palestine. Darwazah was inspired by Hourani's wondrous reveries, in which he lives underwater, sleeps in the clouds, and falls in love with a fish. She decided to journey for the first time to her native Palestine, to the seafront city of Jaffa, where Hourani lost his life.

She hopes to answer a question: How can one return to a place that has only ever existed in one's mind? A poetic, first-person essay film, 'My Love Awaits Me by the Sea' is a voyage of discovery and reckoning that contemplates the meanings of belonging, nostalgia, affiliation, and love. Along the way, Darwazah spends time with her own considerations of Palestine, and with various Palestinians and their chosen forms of resistance. The result is a quietly meditative consideration of how we all have the opportunity to construct our own lives on our own terms.

This screening will be followed by a Q&A with the filmmaker.
Director
Mais Darwazah
Mais Darwazah began her film career making short experimental films. She received a British Council scholarship and completed an MA in documentary directing. Her graduation film, 'Take Me Home' (2008), screened in numerous international festivals. 'My Love Awaits Me by the Sea' is Darwazah's first feature-length documentary: it participated at the Berlinale's DocStation in 2009 and was awarded grants from the Sundance Documentary Fund in 2010 and from SANAD in 2011. It had its world premiere at the Toronto International Film Festival in 2013.
Credits
Screenwriter

Mais Darwazah

Producer

Rula Nasser, Michel Balagué

Cinematographer

Arlette Girardot, Joude Gorani

Editor

Vartan Avakian

Music

Cynthia Zaven